A Revenue Revolution Occurring Within the Manufacturing Industry



Additional research conducted by IDC predicts that within the next year,

60% of the top manufacturers

will rely on digital platforms that enhance investments in ecosystems and experiences to support as much as

30% of their overall revenue

.²
This bold prediction indicates that high performing companies capture significant growth by cultivating and strengthening online relationships and workflows across their entire ecosystem outside of the manufacturing floor – which includes supply and distribution channel partners that support the customer's entire digital journey.
BDO, a global advisory service, reported that in a survey of 230 middle-market manufacturers, a majority consider business model diversification as their top priority. Today, many CEOs openly share their worst fear: that disruptive technology, combined with shifting buyer behavior, will rapidly truncate current competitive advantages.
The risks of not moving forward with advancing technology are even greater. Industrial manufacturers can no longer count on stability. With the stroke of a pen or the tap of a tweet, cost advantages from manufacturing in a particular country or sourcing from certain suppliers can disappear. By finally becoming more proactive about investing in the technology that's needed for the processes and products of the future, the leaders of this industry can get out in front of new global realities and stop reacting to problems they can't control.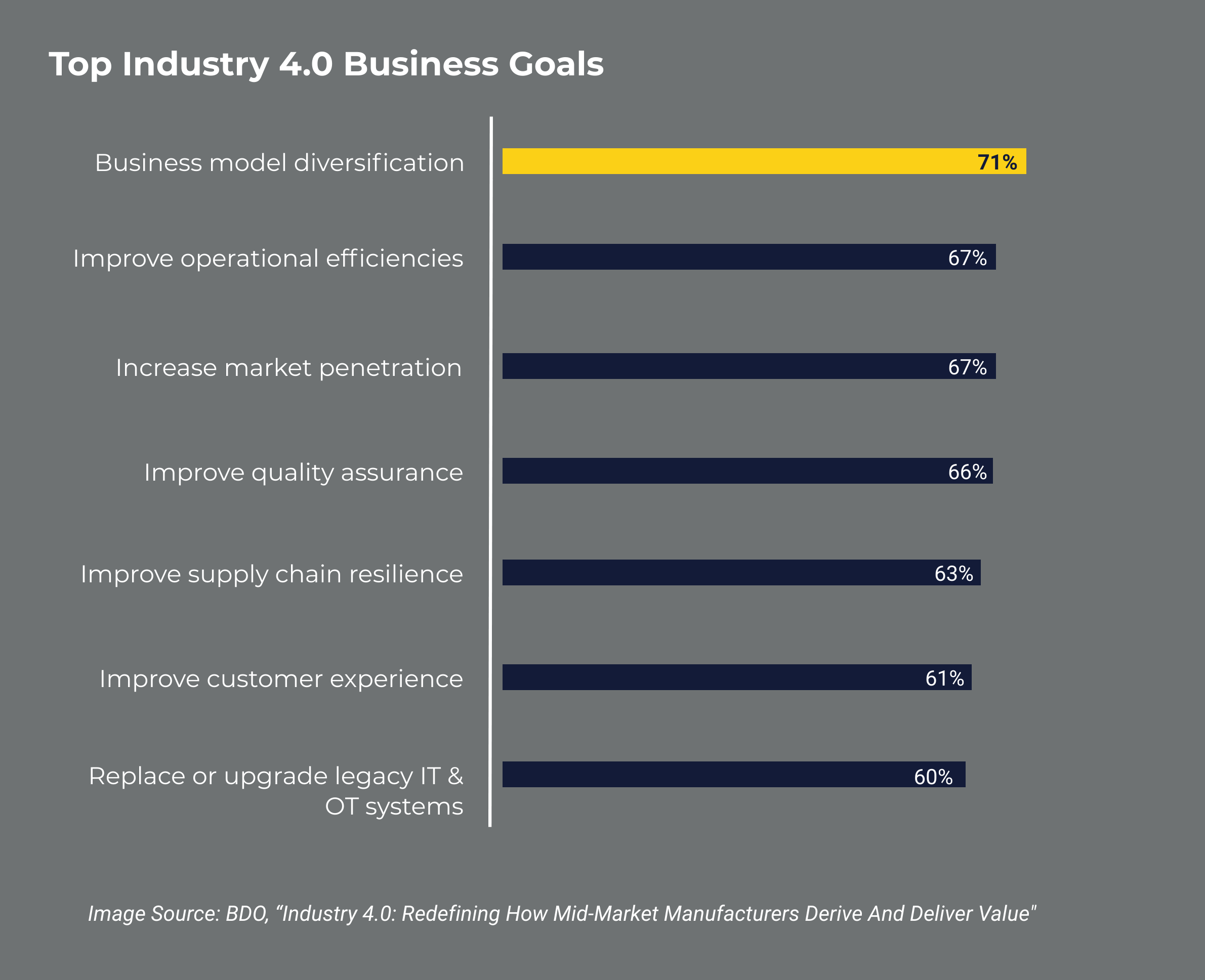 Based on these new realities, best-in-class manufacturers are making adjustments and driving forward. Caterpillar (NYSE: CAT) recently announced their intent to invest in digital innovations and double services revenue from $14B to $28B by 2026. Heavy investment in digital capabilities reveals itself in the company's target of one million digitally connected assets within the year. Caterpillar increasingly emphasizes interaction with customers after selling them new equipment. CEO Jim Umpleby says, "We're working closely with our dealers to find more ways to add customer value through services."³
---
Many enterprises have pivoted to pursue core business transformations as both a means of survival and future competitive advantage.
---
Instead of seeking only modern operational solutions which imply high complexity, risk, and cost constraints, many enterprises have pivoted to pursue core business transformations as both a means of survival and future competitive advantage. Simply cataloging the top business goals in the BDO Global survey exposes the evolving manufacturing sector philosophy:
Increased market penetration requires more agile communication with channel partners
Enhanced supply chain resilience means improved relationships upstream
Improved customer experience requires optimized, experience-rich engagement